Thanksgiving in Key West 2023
This post was written for 2022. We will update with 2023 information as it becomes available!
I have seen many ask about Thanksgiving in Key West. Some wonder where they can get a traditional Thanksgiving dinner in Key West. Others ask, which restaurants are open in Key West on Thanksgiving day? This guide will share where you can enjoy a Thanksgiving meal in Key West in 2023.
If you are not looking for a festive holiday meal, you are still in luck because most Key West restaurants will be open and waiting to serve you on Thanksgiving, whether you find yourself on or off Duval. You'll find seafood, steaks, chicken, burgers, and more if you are not in the mood for turkey.
In the Florida Keys, we have many reasons to be thankful. There is gorgeous weather, abundant water activities, incredible local tastes and cuisine, and a casual way of living. Many choose to visit because of that, and some may stay over for the Thanksgiving holiday.
When is Thanksgiving in Key West?
We celebrate Thanksgiving in the US on the fourth Thursday in November. Thanksgiving will be on November 23rd, 2023, around the country and in Key West.
How About Key West Thanksgiving Weather?
Chances are better than not that if you are in Key West for Thanksgiving, the weather will be sunny with a chance of cocktails. Finding no fault in that forecast, you should absolutely come to Key West and enjoy some of our Thanksgiving weather. We can Guarantee there will not be any snow!
Thanksgiving in Key West: Where to Eat, Who is Open
Here is a rundown of the Key West restaurants I found that will be open and offering Thanksgiving day options for 2023. You'll see turkey lunch, dinner, and takeaway choices along with regular menus. If you come to Key West during Thanksgiving, you will have nothing to worry about food-wise.
Cafe Sole
The good folks over at Cafe Sole told me, "Every year, we make a full New England-style Thanksgiving dinner with turkey, mashed potatoes, homemade gravy, cream corn, homemade cranberry pies, green beans, stuffing, baked acorn squash, sweet potatoes, and root vegetables." So please go to Cafe Sole to make reservations.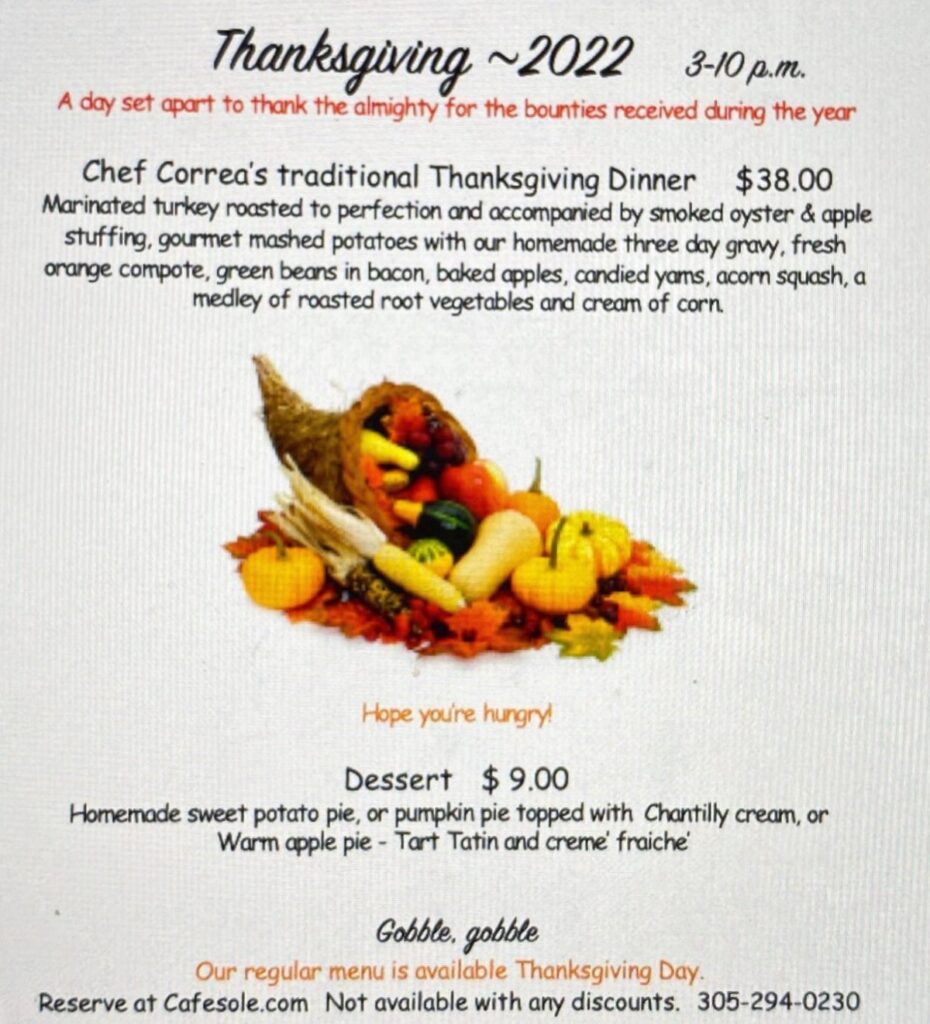 Located at: 1029 Southard St, Key West, FL 33040 • (305) 294-0230
Casa Marina
Thanksgiving Day Brunch Buffet will be served from 12 pm to 8 pm. $115 for adults and $29 for children. Call for more information or reservations. You can also look at the Casa Marina website.
Located at: 1500 Reynolds St, Key West, FL 33040 • (305) 296-3535
Dante's Key West
The good folks at Dante's restaurant and pool bar told me, "We usually have our all-you-can-eat thanksgiving buffet! When it gets a bit closer, we'll post the details." So keep an eye out for more information on their website or social media.
The details are out, and they are as follows.
Located at: 955 Caroline St, Key West, FL 33040 • (305) 293-5123
Denny's Key West
Denny's is offering their regular menu and a Thanksgiving turkey dinner. Be warned that the turkey meal will be a limited-time offer, and supply will be short. Denny's advises you to come early and apologize for the shortage due to a vendor issue. Don't forget about the full bar at this location!
Located at: 2710 N Roosevelt Blvd, Key West, FL 33040 • (305) 741-7990
Duffy's Steak & Lobster House
Duffy's will serve a regular menu and Traditional Thanksgiving options from noon until 10 pm. Call to make a reservation (especially large groups) or walk in.
First Course: Fresh Garden Salad or Lobster Bisque
Entree: Oven Roasted Turkey with homemade stuffing, giblet gravy, and mashed potatoes. Baked yams with honey butter, fresh broccoli, cranberry relish, and freshly baked bread
Dessert: Pumpkin Pie with Whipped Cream
Cost: $32.99 per person/children under 12 $16.99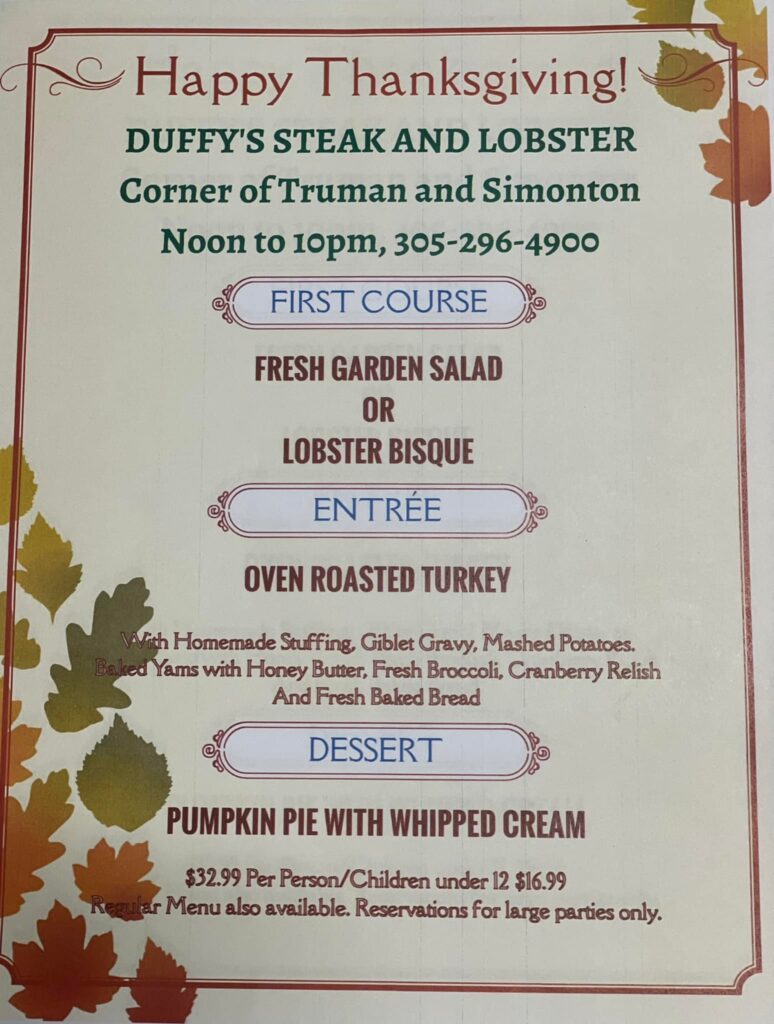 Located at: 1007 Simonton St, Key West, FL 33040 • (305) 296-4900
Fausto's Food Palace Offers Turkey to Go for Thanksgiving in Key West
For those that would like to have their meal at home or in their condo or rental, you can get a Thanksgiving dinner to go from Fausto's.
Thanksgiving Dinner $179.99. Serves 8-10. Or opt for only a Turkey for $89.99. Place your order at the deli.
The full dinner includes a 10-12 lb Plainsville Turkey, Mashed Potatoes, Sweet Potato Casserole, Green Beans, Stuffing, Gravy & Cranberry Relish
Located at: 522 Fleming Street, Key West, Florida 33040 • (305) 296-5663
Located at: 1105 White Street, Key West, Florida 33040• (305) 294-5221
Four Marlins Oceanfront Dining
Thanksgiving dinner for two to go, including an oven-roasted turkey breast with gravy, 5 side dishes, and 2 slices of pie, $85. Whole pies are also available. Order by 5 pm, Tuesday, November 22, 2022, by calling 305-293-6250. Pickup will be available on Thanksgiving day from 11 am – 4 pm.
Located at: 1435 Simonton St, Key West, FL 33040 • (305) 293-6250
Fury Key West Thanksgiving Ultimate Adventure H2.O
Enjoy a day out on the water with fun activities and a turkey lunch It doesn't get more Florida or Key West than that. The following is from Fury's website and a link to take you to this event.
"Fury Water Adventures loves to celebrate the holidays sailing our catamarans into the aqua-blue waters of Key West and enjoying an entire day relaxing in the sun. If you are looking for some exciting events during the Key West Thanksgiving 2022 Holiday, then hop aboard the largest fleet of catamarans on the island and get ready for some exciting new adventures. Our Key West Thanksgiving Ultimate Adventure H2.0 comes complete with all the watersports you can handle and a traditional Thanksgiving luncheon. You'll enjoy traditional Thanksgiving Day fare while docked in a quiet and secluded location in the middle of the Florida Keys!"
Departs from: the corner of Greene St. and Elizabeth St.next to The Conch Republic Seafood Company. • (855) 831-5997 toll-free
Grand Cafe
Traditional Thanksgiving and their fabulous regular menu will be served at the Grand Cafe from noon until 10 pm.
Baked Carved Turkey Breast with Gravy
Seasonal Herbed Stuffing with Thyme and Shallots
Cranberry Relish
Potato Puree
Creamed Spinach
$32.95 for adults and $16.95 for children 12 and under.
The last seating for dinner will be 9 pm. They are taking reservations.
Located at: 314 Duval St, Key West, FL 33040 • (305) 292-4740
Great Events Catering
For Thanksgiving this year, if you do not want to worry about who has to cook, let Great Events Catering take care of everything. They have a Thanksgiving feast available that you can pick up for your traditional holiday meal.
Located at: 925 Truman Ave, Key West, FL 33040 • (305) 294-2252
Hard Rock Cafe
On lower Duval, in the middle of it all, you can "Enjoy a rockin' Thanksgiving complete with friends, family, turkey, and pie. Oh my!" according to the Hard Rock Cafe website. Here is a link to their Thanksgiving menu.
Slow-roasted turkey breast, roasted fresh vegetables,
home-style classic stuffing, creamy sweet potato mash,
cranberry sauce finished with traditional turkey gravy.
$30.95
A slice of classic pumpkin pie topped with
caramel sauce and house-made whipped cream.
$9.95
Located at: 313 Duval St, Key West, FL 33040 • (305) 293- 0230
Hot Tin Roof
Browsing the website for Hot Tin Roof, I discovered their Thanksgiving offering for those who enjoy dining at their location at $110 per person.
Appetizers
Crab and Corn Chowder (sweet yellow corn, potatoes, worcestershire crème fraîche)
Roasted and Grilled Mushrooms (whole grain mustard and gruyere sauce, tarragon-garlic breadcrumbs)
Salad
Spiced Roasted Cauliflower (toasted walnuts, brown butter, bacon lardons)
Baby Autumn Greens (grilled pears, candied pecans, triple crème brie, pecan vinaigrette)
Mains
Herb Roasted Heritage Breed Turkey (confit dark meat, whipped yukon potatoes,
local honey glazed baby carrots, traditional gravy)
Black Lime and Chili Dusted Grouper (poblano-posole stew, lime crema, roasted calabaza squash)
Angus Beef Tenderloin (boursin potato gratin, haricot verts, caramelized shallots,
cabernet sauvignon sauce)
Grilled and Roasted Vegetable cannelloni (burrata, basil purée, black garlic pomodoro)
Butter Poached Warm Water Lobster Tail (chive mashed potatoes, caviar, champagne sauce)
Dessert
Key Lime Pie (graham cracker and cashew crust, vanilla bean whipped cream)
Kahlua Coffee Cheesecake (dark chocolate brownie, espresso caramel, chocolate espresso beans)
Pumpkin Crème Brûlée (caramelized sugar, cinnamon macaron)
Mignardise
Espresso Chocolate Truffle
Located at: 0 Duval St, Key West, FL 33040 • (305) 295-7057
La Te Da
On upper Duval Steet, La Te Da gets into the swing of things every year with a traditional turkey meal with all the fixings. Call for reservations. The picture at the top of this post is from a few years ago. They will offer the same menu, and I was told $46 for adults and $17 for those 12 and under.

Come and see why many recommend La Te Da as the best place to have Thanksgiving dinner in Key West.
Located at: 1125 Duval St, Key West, FL 33040 • (305) 296-6706
La Trattoria Oceanside
La Trattoria Oceanside messaged me, saying, "we will have a traditional Thanksgiving dinner with all the fixings and our full menu." Keep an eye on their website or call for more information.
Located at: 3593 S Roosevelt Blvd, Key West, FL 33040 • (305) 295-6789
La Trattoria Old Town
Traditional Thanksgiving dinner and a full menu will be available at the La Trattoria Old Town location on Duval street.
Located at: 524 Duval St, Key West, FL 33040 • (305) 296-1075
Louie's Backyard
The response I got from Louie's Backyard was, "we have a special Thanksgiving menu. We are filling up fast." Big occasions are always fun at Louie's. Celebrate time with each other, good food, and incredible views. Call for more information.
Located at: 700 Waddell Ave, Key West, FL 33040 • (305) 294-1061
Mallory Square Sunset and Thanksgiving Celebration
Everyone is welcome to come and enjoy a free Thanksgiving dinner at sunset down at Mallory Square. There will be six large turkeys being prepared at this open event for the public. Will Soto has organized this fantastic Thanksgiving opportunity to share a lot of food and a bunch of love with Key West.
From Gwen Filosa's (a journalist in Key West) post, "Thanks, Will and Amy and everyone for offering this. It means a lot that we all have a place to go for the holiday. And no less than at Mallory at sunset. Just Key West being all Key West. Always a place to go for community"
Located at: Mallory Square, Key West, FL 33040 • For information, to help sponsor or to volunteer to help out, (305) 923-9196
Martin's
Martin's will have their regular menu and a turkey dinner option. Take note that Martin's does not have happy hour on holidays. You can still find excellent food and drink to celebrate the Thanksgiving holiday.
Located at: 917 Duval St, Key West, FL 33040 • (305) 295-0111
Mary Ellen's Bar & Restaurant
From Mary Ellen's Facebook page, we get the following,
"Join us here at Mary Ellen's next Thursday on Thanksgiving Day (November 24th) for a Turkey Day Feast!
Our kitchen will be cooking up all the traditional deliciousness! Served from noon until we run out!
Check out the menu below:"
Roasted Turkey with Traditional Stuffing
Mashed Potatoes
Turkey Gravy
Green Bean Casserole
Sweet Hawaiian Roll
Jellied Cranberry Sauce
Pumpkin Pie
$25 per person
GOBBLE GOBBLE!
Located at: 420 Appelrouth Ln, Key West, FL 33040 • (305) 294-7750
Milagro Restaraunt & Bar
Two blocks from the Southernmost Point, you'll find Milagro. They will have a special ala carte holiday menu featuring Thanksgiving flavors with a milagro twist from 2 pm to 8:30 pm. The full menu is also available.
For the big day, they offer a choice of two starters, two entrees, and a dessert.
Roasted Red Pepper Bisque (Opal Basil & Chive Oil)
Or
Black Grouper Ceviche (Crisp Plantains | Ahi Amarillo | Lime)
Sage Butter Roasted Turkey (Applewood Bacon Stuffing | Traditional Accompaniments | Giblet Gravy)
Or
Shallot Roasted Cheshire Pork Loin (Garlic Herb Fingerling Potatoes | Grain Mustard Demi)

Pumpkin Cheesecake (Candied Pecans | Cinnamon Whipped Cream)
Located at: 1401 Simonton St, Key West, FL 33040 • (305) 440-3534
New York Pasta Garden
Another Duval street location will serve Thanksgiving up for you in Duval Square at the New York Pasta Garden! Full lunch menu available from 11:30 AM to 3:30 PM. Full dinner menu available from 4:00 PM to 10:30 PM. Special Thanksgiving menu available 12-Noon until it's gone.
Choice of salad (caesar or garden)
Thanksgiving plate entree (roasted white and dark meat turkey)
Mashed potatoes, Homemade Stuffing, Chef's Vegetables, Cranberry
Chef Dan's Pumpkin Pie for dessert
$35.95 per person, $17.95 children 12 and under
Reservations suggested; the restaurant sold out last year, 305-292-1991.
Located at: 1075 Duval St, Key West, FL 33040 • (305) 292-1991
Old Town Bakery
Looking for some delicious pies, delightful baked bread, or savory cheese platters? The Old Town Bakery may just have what you are seeking. Give a glance at their Thanksgiving menu options.
Located at: 930 Eaton St, Key West, FL 33040 • (305) 396-7450
One Duval
One Duval within the Pier House offers some Thanksgiving specials for dining patrons. Enjoy their Thanksgiving specials and their regular menus with lovely ocean views all day long.
located at: 1 Duval St, Key West, FL 33040 • (305) 295-3255
Pepe's Cafe & Steakhouse
If you are feeling hungry and somewhat festive on any Thursday, stop by Pepe's Cafe around dinner time for a traditional turkey feast. Every Thursday throughout the year, a Thanksgiving dinner is available. If you happen to be there earlier in the day, you'll also find a Thanksgiving sandwich on Pepe's lunch menu.
Generally (in past years), Pepe's begins their traditional holiday dinner at 3 pm. Pepe's Key West Thanksgiving menu includes dinner with both light and dark turkey, stuffing, gravy, regular or sweet mashed potatoes, and peas. Keep an eye on their website and Facebook page for updates.
Located at: 806 Caroline St, Key West, FL 33040 • (305) 294-7192
Rams Head Southernmost
The people over at Rams Head Southernmost invite you to join them for turkey day with the following post from their FB page.
"Gobble gobble! Traditional Thanksgiving dinner will be served all day Thursday! Don't forget to try out our build-your-own bloody mary bar and head back to the courtyard to shoot some cornhole.
Thanksgiving in Keywest is the best!"
Located at: 804 Whitehead St, Key West, FL 33040 • (305) 440-3196
Sally O'Brien's Irish Pub (Brady's)
Thanksgiving is around the corner, and at Sally O'Brien's, you can watch the games and have a traditional turkey meal all in one spot! Come on down for some turkey and good times on Thanksgiving day. They have been practicing every Tuesday (turkey specials), so they can get that turkey meal just right. $21.95 per person and plenty of cold draughts and even some pumpkin pie. Say hello to my good friend Priscilla!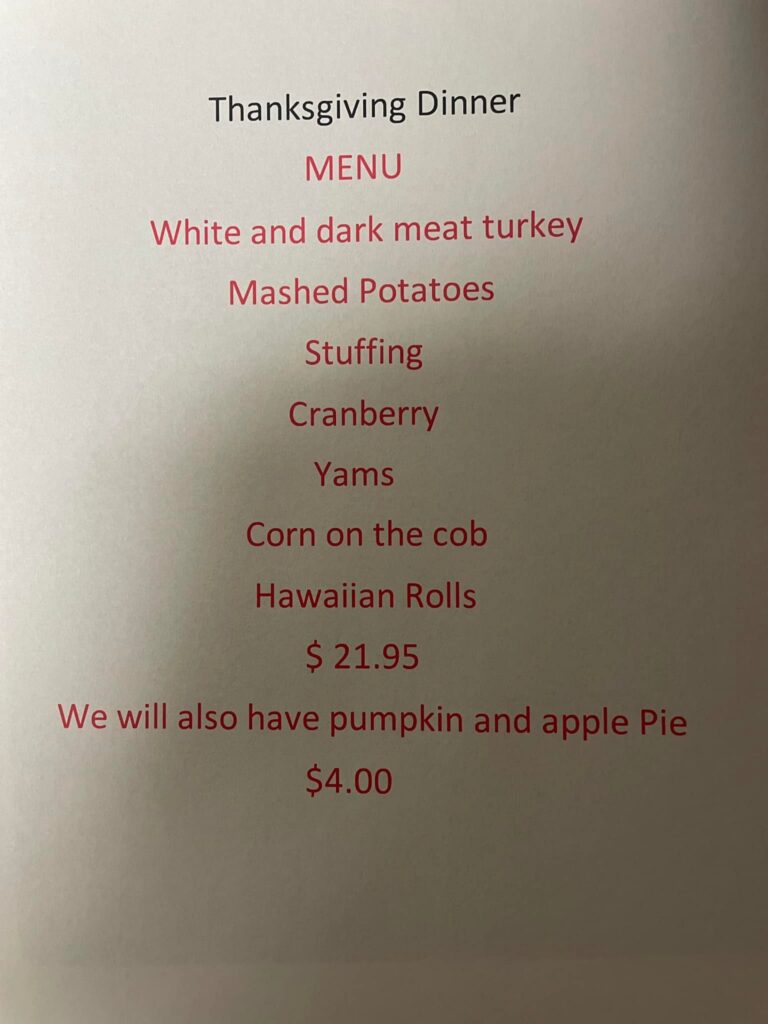 Located at: 1900 Flagler Ave, Key West, FL 33040 • (305) 295-8880
Shor American Seafood Grill at Hyatt Centric
I discovered this Thanksgiving menu on their website. $72 per person from 2 pm til 8 pm featuring a choice of salads, soup, traditional turkey main course, and dessert.
Located at: 601 Front St, Key West, FL 33040 • (305) 809-4000
Smokin' Tuna Saloon
Smokin' Tuna will offer a Traditional Thanksgiving Dinner this year until sold out for $24 per person. It will have Roasted Turkey and all of the fixings. Stop by and have a memorable Thanksgiving meal at one of Key West's iconic bars. There will be live music and lots of fun, so you can eat, drink, and be thankful. They open at 11:30 am. The normal menu is also available.
Located at: 4 Charles Street, Key West, FL 33040 • (305) 517-6350
Southernmost Beach Cafe
Enjoy your Thanksgiving with some ocean views and amazing Key West weather at the Southernmost Beach Cafe. Their Thanksgiving special has all of the traditional fixings to satisfy any appetite. Is this the best place to have Thanksgiving dinner in Key West in 2022? You can be the judge as you gaze out on the horizon as gentle waves lap onshore and plan trees sway at the Southernmost Beach Cafe. This turkey special is from 3 pm until close. (around 8 pm)
Located at: 1405 Duval St, Key West, FL 33040 • (305) 295-6550
Sunset Watersports
Another fun Thanksgiving time can be spent on the water with Sunset Watersports Key West.
Their website says, "All aboard for Key West's Only Thanksgiving Day Sunset Dinner Cruise. Enjoy a traditional turkey dinner while on the water. Our team prepares and cooks the food in our onboard kitchen, which makes sure the food is fresh and delicious.
This trip also includes an unlimited open well bar. Grab a beverage and groove into the sunset as our local steel drum performer fills the air with tropical vibes."
Relax all day in Key West and then head out to sea on this Thanksgiving dinner cruise.
Located at: 201 William St, Key West, FL 30040 • (305) 296-2554
Tavern N' Town
Tavern N' Town offers a TNT Plated Turkey Dinner featuring oven-roasted turkey, house ciabatta stuffing, Yukon mashed potatoes & gravy, toasted almond green beans, and cranberry sauce for $48. In addition, there is a bourbon pecan tart and pumpkin ice cream for $15. The regular dinner menu is also available 4-10 pm. Call for reservations.
Located at: 3841 N Roosevelt Blvd, Key West, FL 33040 • (305) 296-8100
Tempt Restaurant At The Saint Hotel
Tempt Restaurant has everything you need and more to have an exciting Thanksgiving meal this year in Key West. Dine at this holiday event from 2 pm until 6 pm for $55 per person.
Located at: 417 Eaton St, Key West, FL 33040 • (305) 294-3200 for reservations
The Docks Restaurant + Raw Bar
"Thanksgiving hits different here" is what they are saying at The Docks Restaurant on Stock Island. The following is from their Facebook page.
That's why, for the first time, we're offering reservations for Thanksgiving dinner! Our full menu will be available, plus a turkey dinner plate with all the trimmings.
Call or email to reserve your table!
Located at: 6840 Front St, Key West, FL 33040 • (305) 396-7049 • thedocksstockisland@gmail.com
The Waterfront Brewery
Down at the historic seaport where all the good things happen to be, stop by The Waterfront Brewery for a Thanksgiving meal with water views and delicious brews. They will also have their happy hour special from 4:00 pm – 6:30 pm featuring half-off beers, wells, and wines by the glass.
Located at: 201 William St, Key West, FL 33040 • (305) 440-2270
Virgilio's
Tucked away behind La Trattoria Old Town, this cocktail and martini bar will also participate in the Thanksgiving festivities this year. Virgilio's Martini Bar will have the same full menu and specials as La Trattoria, including a traditional Thanksgiving dinner.
Located at: 524 Duval St, Key West, FL 33040 • (305) 296-1075
Viva Argentinian Steakhouse
Viva will be open on Thanksgiving day, and thankful if you stop by. They will have "Live music, awesome staff, amazing food, and yummy cocktails"
Located at: 903 Duval St, Key West, FL 33040 • (305) 741-7666
---
Wishing You a Happy and Safe Thanksgiving, Whether in Key West or Elsewhere
As you can see, there are many options to discover which is the best place to have Thanksgiving dinner in Key West. Don't forget that you can also locate Thanksgiving lunch, a Thanksgiving sunset dinner cruise, and order from most regular menus. Many Key West restaurants remain open on Thanksgiving, and for that, we are thankful.
Save and Pin for Later
Look At These Popular Key West Activities
Are You Looking For A Place To Stay in Key West
If you need a place to stay, review these local hotels and find locations that best suit your needs.
Find the Best Deals on Key West Hotels here.
Get Ready to Book Your Trip: Helpful Links and Resources

Book Your Flight
Use Skyscanner to find and research your airfare needs and to find the best flight deals. It searches worldwide on multiple airlines to help you find the best options.

Book Your Stay
Booking.com is my go-to for finding a place to stay anywhere globally. An outstanding company that I trust and have used for many years. Find accommodation from budget to luxury in cities and countries around the world. If you happen to be backpacking and staying in hostels, I recommend Hostelworld to help you find a place to stay.

Get Travel Insurance
Travel is unpredictable. Anything could happen. A trip interruption, flight delay, lost or stolen items, or personal injury, having comprehensive trip insurance will protect you if anything goes wrong. SafetyWing is a solid choice for most travelers.

Tours, Activities, and Things to Do
Viator (a TripAdvisor company) offers many excellent options to keep you busy wherever you may be, from walking and food tours to sunset cruises and more. Make sure to give them a look and add some fun-filled activities to your itinerary.
Disclosure: Please note that some of the links above may be affiliate links. At no additional cost to you, I may earn a small commission if you make a purchase. I only recommend companies and products that I use myself and believe in.