Are You Superstitious?
What do you do when Friday the 13th rolls around? Do you watch horror movies and think about what lurks in the shadows? Maybe you avoid black cats crossing your path and try your best not to walk under ladders. Perhaps you ignore it, are not superstitious, and consider it just to be another day. Have you ever considered flying on that day? I decided to test my luck, roll the dice, verify my standing with the deities, and board flight 666 on Friday the 13th.
Planning A Trip To Hell
Sounds fun, right? Who doesn't want to fly to hell on Friday the 13th? Well, the airport code is HEL for Helsinki, Finland. Pretty cool, right? But wait, that is not all. I also managed to be on the last flight of Finnair's AY666 route. What, you might ask? Okay, let's piece this together. Yep, I chose to be on the last flight of 666 to HEL on Friday the 13th. 🤔👻😈 Who does that?
I remember hearing some mentions of this flight a few years back, but it didn't resonate much. A blogger I follow on Twitter mentioned his experience on this connection and warned that the last flight was upcoming. I was on this quicker than people on a Black Friday sale event. This flight was something that I was not going to miss. I already knew what I would wear and what the theme songs should be in my head. Instantly I thought of AC/DC and Iron Maiden.
Booking Flight 666
I went to Finnair's website to book since I couldn't see any advantages for ticketing elsewhere. I was happy to see that there were still tickets and seats available for the flight. When I booked my ticket, I could pay to pick a seat. Sadly row 13 was full, so I chose seat 6A. Somehow Finnair decided to change things around, and when I boarded, I was actually in seat 11A.
Preflight Accommodation
I stayed at the Bedwood Hostel in the always picturesque Nyhavn area for three nights. A decent place for expensive Denmark. It had shared dorms, an onsite bar, paid breakfast (if you wanted), excellent facilities, and a superb location. Even the plug socket couldn't help but be happy on Friday The 13th, sporting devil horns, no less. I could hang out, explore new areas, and eat excellent food with my good friends that I had known since high school.
Day Of Reckoning
That morning I woke up well-rested. I even splurged for breakfast at the hostel. When it was time to head out, I walked across Nyhavn on a pedestrian bridge and made my way down the street to the Kongens Nytorv subway station. I figured out how to buy my ticket and rode the elevator to the correct level. Finally, I was all set for my ride to the airport.
Last Meal?
I had a little time to kill on arrival, so I found a nice sit-down bar/restaurant for lunch and to imbibe in a delicious Danish Tuborg beer. I had two Smørrebrøds, which were to die for. The beef tartare pictured below and a chicken salad.
Waiting for Flight 666 on Friday the 13th
I spoke with a few passengers in the waiting area for flight 666. Some of whom were on this particular flight for the same reasons as me. There were some chuckles at my shirt selection, and a few of us took photos together and exchanged stories.
As boarding got closer, there was a sense of excitement. I had gone up to a gate agent to request a hard copy of my ticket for a keepsake. He liked my shirt and laughed when I asked if they would play "The Number of the Beast" or "Highway to Hell" on board. I was even offered priority boarding for my ensemble.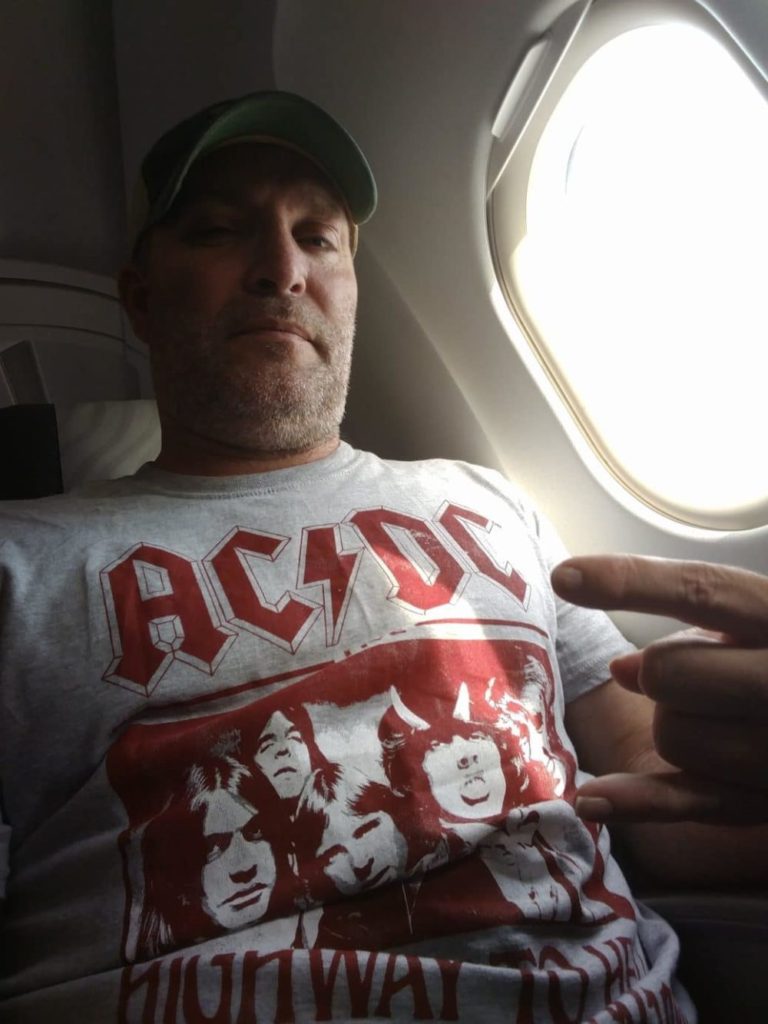 Flight 666 to Helsinki
The flight was very calm and relaxing. No incidents or causes for concern were to take place on this day. The offering of blueberry juice struck me on the beverage cart (not something you see every day), and I must say I found it to be very refreshing. The flight was shorter, so there was no in-flight entertainment (A Friday the 13th movie would have been excellent, just sayin').
It was a beautiful, partly sunny afternoon when we arrived in Helsinki. Making my way off the plane, I got some smiles and laughs from the flight attendants and gave the captain a proper heavy-metal salute 🤘. Unfortunately, he was not wearing a hockey mask or carrying a machete, much to my disappointment.
Make Sure You Protect Yourself with Travel Insurance
While travel in Europe is safe, I love the peace of mind travel insurance gives me in case of emergencies, accidents, illnesses, theft, trip cancellation, or disruption. For a few dollars a day and with coverage for many types of adventure activities, I'm all in. Even on Friday the 13th.
HAPPY FRIDAY THE 13TH!
Get Ready to Book Your Trip: Helpful Links and Resources

Book Your Flight
I use Skyscanner to find and research my airfare needs and to locate the best flight deals. It searches worldwide on many airlines to help you find the best options.

Book Your Stay
Booking.com is my go-to for finding a place to stay anywhere globally. An outstanding company that I trust and have used for many years. Find accommodation from budget to luxury in cities and countries around the world. If you happen to be backpacking and staying in hostels, I recommend Hostelworld to help you find a place to stay.

Get Travel Insurance
Travel is unpredictable. Anything could happen. A trip interruption, flight delay, lost or stolen items, or personal injury, having comprehensive trip insurance will protect you if anything goes wrong. SafetyWing is a solid choice for most travelers. If you are older, want to compare several plans, and to gather more information, look at InsureMyTrip.

Tours, Activities, and Things to Do
Viator (a TripAdvisor company) offers many excellent options to keep you busy wherever you may be, from walking and food tours to sunset cruises and more. Make sure to give them a look and add some fun-filled activities to your itinerary.
Disclosure: Please note that some of the links above may be affiliate links. At no additional cost to you, I may earn a small commission if you make a purchase. I only recommend companies and products that I use myself and believe in.