22 Things to Do in Key West for 2023
As soon as you book that trip, are you making a detailed list of things to do in Key West? The ideas keep coming at you like the plentiful sunshine to the keys. Thoughts keep rushing at you from blog posts, forums, and maybe even some Instagram pictures.
Lucky for you, Key West always has something going on. We can't wait to welcome you for the first time or on your return. You aren't alone in making lists and planning what to do and where. We have joined the fun and created our list of 22 top ideas, activities, and experiences to try in 2023.
Whether you only do a few or choose to do them all is ultimately up to you. Key West and the Florida Keys will be waiting for you.
22 Things to Do in Key West
Eat Key Lime Pie
No visit to the Keys is complete without sampling our iconic Key Lime Pie. This dessert favorite will be on nearly every menu you come across. Will you try the towering slice at Blue Heaven or their sister restaurant, Salute? Or will you indulge with the Chocolate-Dipped Key Lime Pie on a Stick from Kermit's Key West Key Lime Shoppe? You could even grab a decent key lime pie from our Publix grocery store. There are many choices in the Conch Republic, so you are pretty lucky and can sample a few. Everyone you run into or ask will have their favorite and let you know which one you should try.

Try Our Variety Of Delicious Seafood
You will find numerous opportunities to feast upon our seafood delights. Why not start with an order of Conch Fritters? Don't forget to save room for our shrimp, whether you find the elusive Royal Reds or more prevalent Key West Pinks. Appetizers, sandwiches, and entrees can feature fantastic fish such as Yellowtail Snapper, Grouper, or this locals' favorite, Hogfish. Gulf oysters are aplenty and also a popular choice during happy hours.

Experience A Sunset Cruise Key West Style
A very well-liked activity is getting out on the water. You'll have many options to choose from; however, I would recommend a sunset cruise. These are great fun for guests of any age. We tend to enjoy the ones that offer food and drinks, and you may even find a live band onboard, setting the mood as the sun dips down to end the day. My personal favorite is Commotion on the Ocean (Book Here). Other popular sunset cruises are this one from Sebago and this Danger Charters one. If you'd like to check out all available options, click here to see the Sunset Cruise that works best for you.

Take Part And Witness The Sunset Celebration
People gather at Mallory Square every evening to watch the sun setting into the sea. The nightly Sunset Celebration is free and is the perfect way to end the day. In addition, you will find entertainers (say hi to my buddy Reid), musicians, art and crafts for sale, and pop-up food stands.

Catch Some Live Music On the Island
We are known for having many, many bars. A good majority of those will have a band playing. You'll find no shortage of live music in Key West for you to check out. Let your ears guide you to what you hear and like. Check out a daily music schedule (I like this one from Who and Where Key West) to see who is playing. You won't find a cover charge to enter the bars and enjoy all of the music, so do make sure to Tip The Bar Staff And Musicians! (Seriously, besides tipping the bands for playing and providing a fun, free environment for you to enjoy, also remember to tip the musicians again if you are making any song requests!)

Have Your Picture Taken At The Southernmost Point
You'll find a symbol of the Conch Republic at the end of Whitehead Street. The Southernmost Buoy welcomes you. People line up and wait patiently for their turn to take photos with this monument. The buoy is the southernmost part of the contiguous 48 states and is only 90 miles from Cuba. My father says that if people have their picture taken with the buoy, they will be fortunate enough to return.

Dedicate A Day And Have More Fun On The Water
We are blessed on this small island with many water activities. Have an adventure with friends by going snorkeling or booking a charter out to a sandbar. Circle the island on a jet ski or soar into the air on a parasail. Try your hand at fishing in our local waters. (many restaurants will cook your catch for you) Kayak through the mangroves or try your luck and balance at stand-up paddleboarding.

All Aboard! Take A Scenic Ride On The Conch Train
Explore, learn about, and see Key West from our fun Conch Train. It is a great way to learn some of the island's history and about our most visited sights. A ride on the Conch Train makes for a beautiful introduction to the island, especially for first-time visitors.

Meet The Locals
The most common local you will find (and hear) many times over is the Key West yardbird, aka chicken. We have magnificent colored roosters, energetic hens, and all of the babies (I call them nuggets) running about. These Key West unofficial ambassadors are protected, so please leave them be, or you could face a fine. Iguanas happen to be in residence on our island as well, so keep your eyes peeled. You can also see the hungry Tarpons being fed down at the waterfront daily. They know what time that dinner bell rings. Our Mosquitoes and No See Um's can't wait for your arrival too!

Rum
We like rum! We have lots of it available and a deep history tied to it. So enjoy that Mojito, Pina Colada, and other fancy concoctions. Key West even has its own drink offering, the Rum Runner. Sit out on the porch of the Rum Bar at the Speakeasy Inn overlooking Duval Street, sipping on one and watching as life passes by. Enjoy a drink or three, perhaps even a rum flight, to sample some history. Next, visit and take part in the free tour with free tastings at the Key West First Legal Rum Distillery, and if you are still up for more, follow it up with a walk to Papa's (Yes, that papa) Hemingways Pilar Rum Distillery.

Make It A Beach Day
Key West isn't a beach destination that you would think of like other islands, but we have a few. Smathers Beach is a long stretch of soft white sand and shallow water with palm trees swaying. Higgs Beach is smaller and has many exciting things (Botanical Gardens, Salute! On The Beach Restaurant, African cemetery, and park) nearby. Ft. Zach is on many lists and is well worth a visit. You will have to pay to enter as it is a state park. Bring water shoes if you are making your way there. You can thank me later. At the end of Simonton, you will find Lagerheads Beach and Bar. A small casual place to soak up some rays, enjoy the view, and drink some libations. If you have a furry friend, they can play in the water at Dog Beach, next to Louie's Backyard.

Follow In Hemingways Footsteps
Visit the Hemingway House and see where he wrote some of those famous novels. Keep an eye out for the polydactyl (six-toed) cats that wander around. Discover Hemingway's last cent out by the swimming pool. You could make your way to Blue Heaven; it is said that Ernest refereed some boxing matches here at times. Head over to Captain Tony's and have a drink. It was one of his usual watering holes, perhaps a source of inspiration for that writing flair.

Enjoy A Memorable And Tasty Breakfast Or Brunch
You can't drink all day if you don't start in the morning, but it is helpful to have some food in your belly first. Start at Harpoon Harry's, one of the first to open its doors at 6:30 am. The harry special ought to do the trick. If you want something different, try the key lime stuffed french toast.
At Blue Heaven, you can dine with the wild roosters and cats in an outdoor setting with freshly baked goods. How about a BLT benedict where the L is lobster?
We have creperies, cafes, and many other exciting places for you to find. Benedicts are kind of a thing here, so expect to see many of them. If you like being near the water when eating, look up the Southernmost Beach Cafe or Schooner Wharf.

Explore The Island With Different Happy Hours
We have many daily happy hours waiting for you to participate in. Save some money and have a good time having some food and drink. There are drinks specials, food specials, and some places with both.
One local tip is to have a Bar Card. It will save you money if you visit just a few of the locations, and it's good until the end of the year. You make your own happy hour with two-for-one drinks at participating bars. Schooner Wharf may have the earliest happy hour from 8 am until noon.

Take A Stroll Down To The Historic Seaport
Gaze at the historical schooners, mega yachts, dinghies, and more down at the waterfront. Then, pull up a seat at one of the restaurants or bars and unwind. The Boat House is a popular spot, as is Schooner Wharf, Half Shell Raw Bar, Alonzo's, Conch Republic Seafood Company, and more. See the fresh catch coming in and the sunset sails heading out in this somewhat busy part of our island.

Visit And Spend Time With Our Winged Friends
The Key West Butterfly and Nature Conservatory is one of my favorite places on the island. I feel a sense of calm and wonder, watching them flit about their habitat. Come and meet Rhett & Scarlett, the famed flamingos that reside there too. The gift shop is pretty extensive and offers up some beautiful keepsakes.

Duval Street
The epicenter of Key West, and most things going on, is Duval Street. Stretching from the Atlantic to the Gulf, this main strip has a little bit of everything. A popular pastime is the Duval Crawl. Hop in and out of the many different bars. A great place to be seen and to watch the comings and goings. Enjoy yourself and have a good time but watch out for that gravity vortex you don't want to end up on the sidewalk or on a certain Facebook page.

Explore The Artsy Side Of Key West
Discover the galleries sprinkled throughout the city. I enjoy window browsing while walking around in the mornings. Explore the architecture of the buildings and enjoy the unique styles of our houses as you walk around. You can find unique art pieces in front of the Customs House, The Marker resort, on Lazy Way Lane, and much more. There are even sidewalk poems spread throughout Key West if you look down.

Go Cuban
As mentioned earlier, we are 90 miles from Cuba. Closer to Havana than the nearest Walmart, you can find plenty of Cuban inspiration in Key West. Cuban coffee is big, and Cuban Coffee Queen always has customers; the same goes for Ana's Cuban Cafe, 5 Brothers, and over at Sandy's Cafe. You won't have an issue finding a delicious Cuban sandwich; your only problem will be enough time to eat them all and decide which is the best. If seeking out other Cuban favorites, stop by El Siboney or El Meson De Pepe.

See A Risque Show
In Key West, we have drag races without cars! Yes, now you get the idea. Go see a performance or a cabaret at venues such as 801 Bourbon, La Te Da, or Aqua. It will be a good time for everyone. Don't get jealous if their hair and makeup are better than yours. Pre-game for your show at a fun tutu-loving bar like 22&Co. Try the espresso martini with edible glitter!

Come To See A Festival Or Event
There is always something going on throughout the year. We are kind of the entertainment capital of the Florida Keys. Check out Fantasy Fest, Meeting Of The Minds, Key West Songwriters Festival, Mile 0 Fest, or RokIsland. In addition, there is a Mini Lobster Season, the Key West Boat Races, Conch Republic Independence Day, and more. See a concert at the Key West Theater or the Coffee Butler Amphitheater. Come to get married, participate in a wedding, or celebrate Key West Pride. After all, we are One Human Family.

Visit The National Park
You can ride the Yankee Freedom Ferry/Catamaran or fly out to the Dry Tortugas National Park by seaplane. In addition, you can explore Ft Jefferson, snorkel around the premises, and learn about its history. Reservations fill up well in advance, so plan accordingly if this interests you.
There are two things that need to be booked well in advance for Key West, so if you are interested in either of these, reserve ahead of time.
A trip to the Dry Tortugas by Boat or Plane (as mentioned above)
A reservation at Latitudes
How Will You Spend Your Time?
Key West has tons of things for you to do in 2023. You'll find that many people keep coming back year after year to this little island oasis. Which of these have you done or are you looking forward to? What keeps you coming back if you are a frequent visitor?
Where To Stay in Key West?
Accommodation will be the main cost of your trip. Florida and especially the Florida keys, have been busy and crowded with visitors. With all of that activity, prices have increased. Review the different hotels and locations that will best suit your needs with the link below.

Find deals on Key West hotels here.
Pin Below To Save On Pinterest: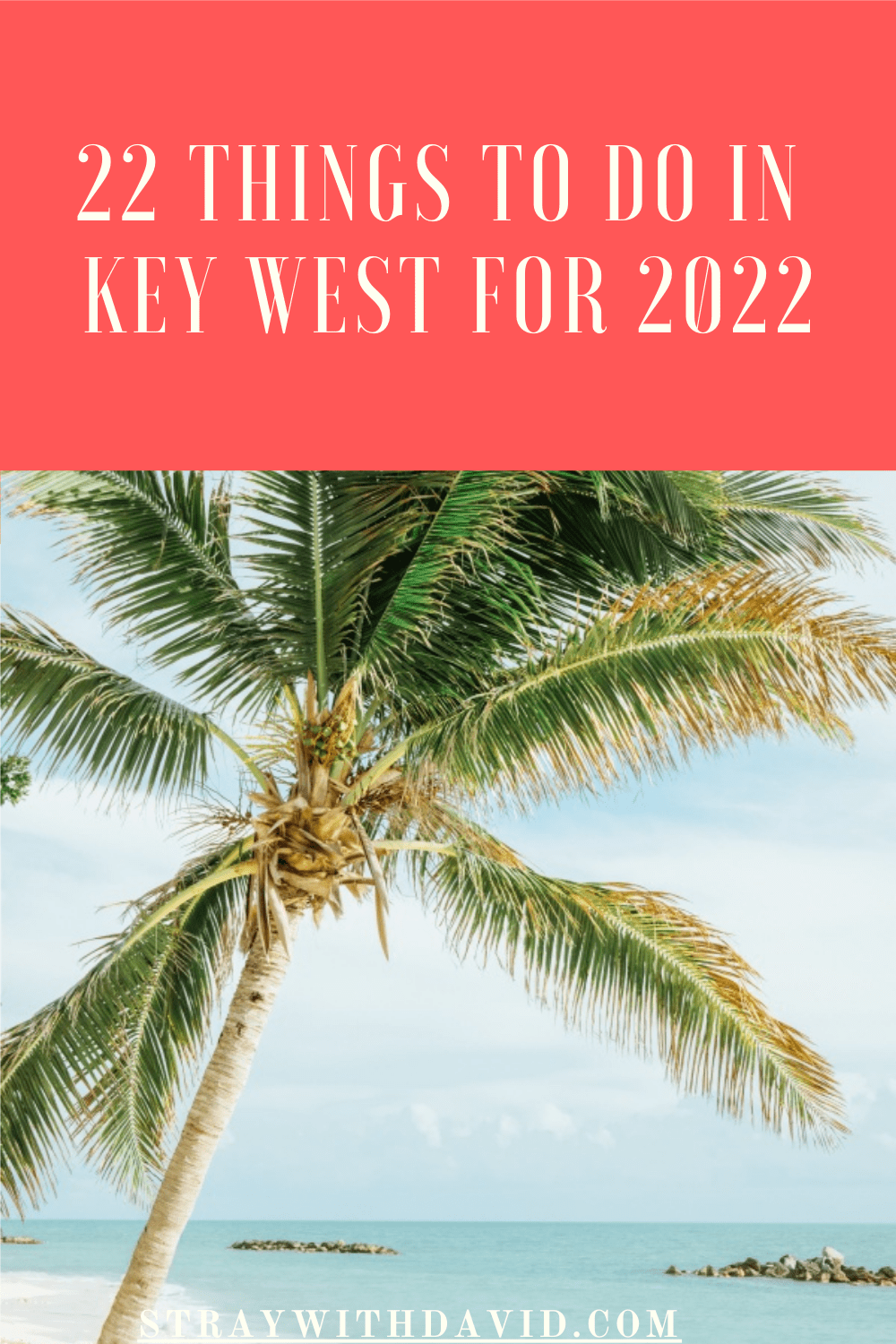 For more of my Key West posts, see below.


Get Ready to Book Your Trip: Helpful Links and Resources

Book Your Flight
Use Skyscanner to find and research your airfare needs and to find the best flight deals. It searches worldwide on multiple airlines to help you find the best options.

Book Your Stay
Booking.com is my go-to for finding a place to stay anywhere globally. An outstanding company that I trust and have used for many years. Find accommodation from budget to luxury in cities and countries around the world. If you happen to be backpacking and staying in hostels, I recommend Hostelworld to help you find a place to stay.

Get Travel Insurance
Travel is unpredictable. Anything could happen. A trip interruption, flight delay, lost or stolen items, or personal injury, having comprehensive trip insurance will protect you if anything goes wrong. SafetyWing is a solid choice for most travelers.

Tours, Activities, and Things to Do
Viator (a TripAdvisor company) offers many excellent options to keep you busy wherever you may be, from walking and food tours to sunset cruises and more. Make sure to give them a look and add some fun-filled activities to your itinerary.
Disclosure: Please note that some of the links above may be affiliate links. At no additional cost to you, I may earn a small commission if you make a purchase. I only recommend companies and products that I use myself and believe in.