The Best Local Food in Hawaii You Should Try
Are you heading to the islands and wondering where or what is the best local food to eat in Hawaii? This post will show you some of the best local dishes in Hawaii and what most of the locals eat. You could follow in their footsteps, try these plates and explore the tastes of the 50th state.
Saimin: Hawaii's Riff on Noodles and Broth
Saimin is a much-loved noodle dish traditionally served with broth. In Hawaii, it holds one of the top spots in the islands as the most satisfying comfort food.
Saimin comprises a delicate and flavorful dashi broth and soft wheat and egg noodles, offering an excellent textural bite. It is usually topped or garnished with slices of bright pink and white fishcake known as kamaboko, a protein such as spam or char siu, sometimes an egg (fried or scrambled), and then finished with slices of green onion.
You could further enhance your Saimin with items like wontons, curry, shrimp, vegetables, and numerous other additions.
Saimin came about from the plantation days in Hawaii. People from China, Japan, and the Philipines worked hard in the fields and would come together at mealtime to share food and drink, ingredients, ways to communicate (that's how pidgin came about), and cultural influences.
Hawaii is blessed with beautiful combinations of flavors and foods that they enjoy today, thanks to the origins of those workers on the plantations. Hawaii is referred to frequently as a melting pot, which is a perfect example of some aspects of those cultures coming together.
Saimin Is Not Ramen
Did you know saimin is uniquely Hawaiian; It was born there. It is traditional local food and rooted deeply in Hawaii. You won't find it on menus at restaurants, food stalls, or markets in Asia.
Often compared to ramen or udon; however, it is not. The noodles have a different consistency and bite, considered softer. In addition, the broth is generally thinner and lighter, and the saimin noodles are made by combining the wheat noodle with eggs.
On Oahu, Shige's and Shiro's are the first names you will hear about concerning Saimin. Those two powerhouses have been doing it right and doing it well for years. Palace Saimin in Kalihi is the oldest shop on Oahu, dating back to 1946; then you have Zippy's with locations all over the islands serving up this comforting meal. Some are even open 24-hours. There is no shortage of places for locals and visitors to score some epic bowl of Saimin.
You'll even find Saimin on the menu at McDonald's and local 7-Elevens. That in itself says a lot about this island favorite and its evolution.
A hot bowl of Saimin always brings joy and is one of my favorite comforting local food choices when in Hawaii.
Manapua: A Favorite Local Food in Hawaii
Manapua is similar to a Chinese Bao but has become Hawaiian in its own right. It is composed of sweet pork filling in a steamed bun. Char Siu Manapua is another local food to try while in Hawaii.
Delicious roasted bbq pork tucked away inside a succulent steamed white pillowy bun. Perfection! Or, as you'd say in Hawaii, Ono! Manapua is the perfect portable snack made to be grasped in your hand.
Today you can get manapua with various fillings and even have them baked instead of steamed. But I'm a sucker for the traditional ones. They paved the way and set the bar, a classic.
There was always an exciting feeling when the manapua truck was in the neighborhood. People were grabbing their money and rushing outside.
You'll find me dropping by New Mui Kwai on any visit to Oahu and my old stomping ground of Kaneohe. I'll walk out with a small plastic bag filled with epic delights, including steamed manapua, pork hash, lumpia, and rice cake.
Honolulu Kitchen in Waipahu has a good selection and many excellent reviews for freshly baked or steamed manapua with savory or sweet fillings. It's a popular spot on the west side. I tried a variety from there on several occasions; however, I'm still a fan of the savory steamed ones more.
I like swinging by this location because Elena's Filipino Restaurant is across the street and has the best lechon special (so good) featured on Diners, Drive-Ins, and Dives. So I can bring home goodies from two fantastic places at once!
In reality, you'll see manapua all over the islands. Inside 7-Elevens, gas stations, food courts, food trucks, etc.
Malasadas: Hawaii's Sweet Local Treat
Malasadas are Portuguese-inspired fried donuts. (without a hole) When done cooking, they are sprinkled with sugar or sugar and cinnamon. Cooked until golden brown outside and light and fluffy on the inside make this an iconic local food in Hawaii.
You can get them filled with custard, chocolate, guava, coconut, and other flavors.
I prefer the original malasadas without filling and usually order a dozen, half with sugar and the other half with cinnamon and sugar.
I drive around to find malasadas from Leonard's. At either their flagship store, on Kapahulu Blvd in town, or the varied food trucks around the island (Waikele, Hawaii Kai, Windward Mall). They started making these treats in 1953.
You have many choices on the islands to find malasadas; even Zippy's (Hawaii's Diner) Napolean Bakery prepares them now.
A longtime malasada favorite in Kailua, Agnes Portuguese Bake Shop, shut its storefront but occasionally has a food truck presence. Many that live on that side will say they are the best tasting ones on the island. Nevertheless, they are gaining traction and word of mouth with a red velvet malasada that sells out quickly. Follow along on the Agnes Facebook page for details.
Malasadas are best hot and fresh and won't last for long. You can touch up any leftovers with a quick blast in the microwave. Malasadas are great with that morning cup of Hawaiian Kona coffee.
Spam Musubi: An Iconic Local Food in Hawaii
Spam Musubi – Did you know that historically the population of the Hawaiian islands eats more spam than anywhere else? It's not an accident either. During world war two, food was canned for longevity, and it was easier to get to the troops.
After Pearl Harbor, Hawaiians adopted this tinned meat product from Minnesota and used it in their hurricane survival kits and typical everyday consumption.
Walk into any 7-Eleven, grocery or convenience store, and you'll usually find one sitting on the counter. Picture a bed of rectangular-shaped sushi rice with a fried piece of meat on top and wrapped in nori. Yes, it is much like spam sushi. Portable and ready to roll out with you. That's why Spam Musubi is a must-try local food when in Hawaii.
When we make ours at home, the spam is cooked in teriyaki or soy sauce with a bit of ginger and brown sugar to glaze, char, and caramelize the portions. The spam soaks up so much flavor and makes this genuinely delightful. It is an easy soft bite that packs an enormous taste.
Even if you are "scared" of spam, it is worth trying at least a bite. You went out of your comfort zone and tried a local delicacy, even if it's not your thing. I didn't ask you to eat balut or fish eyes or grandma's fruit cake. I'm saving that for next time, just kidding!
Loco Moco: Heaven on a Plate
Loco Moco is one of the best local dishes in Hawaii. Imagine, if you will, a bowl or a plate layered from the bottom up with exceptional tastes that meld together and make your taste buds sing with joy.
Steamed white sticky rice with a hamburger patty and brown gravy on top, then topped again with a fried egg. This food is my element and happy place and one of my favorite go-to meals when visiting.
I like it best when you cut into the egg. The yolk cascades down the sides, mixing with the dark gravy elixir, rice, and hamburger meat to make a delightful bite—a confluence of flavor on your palate.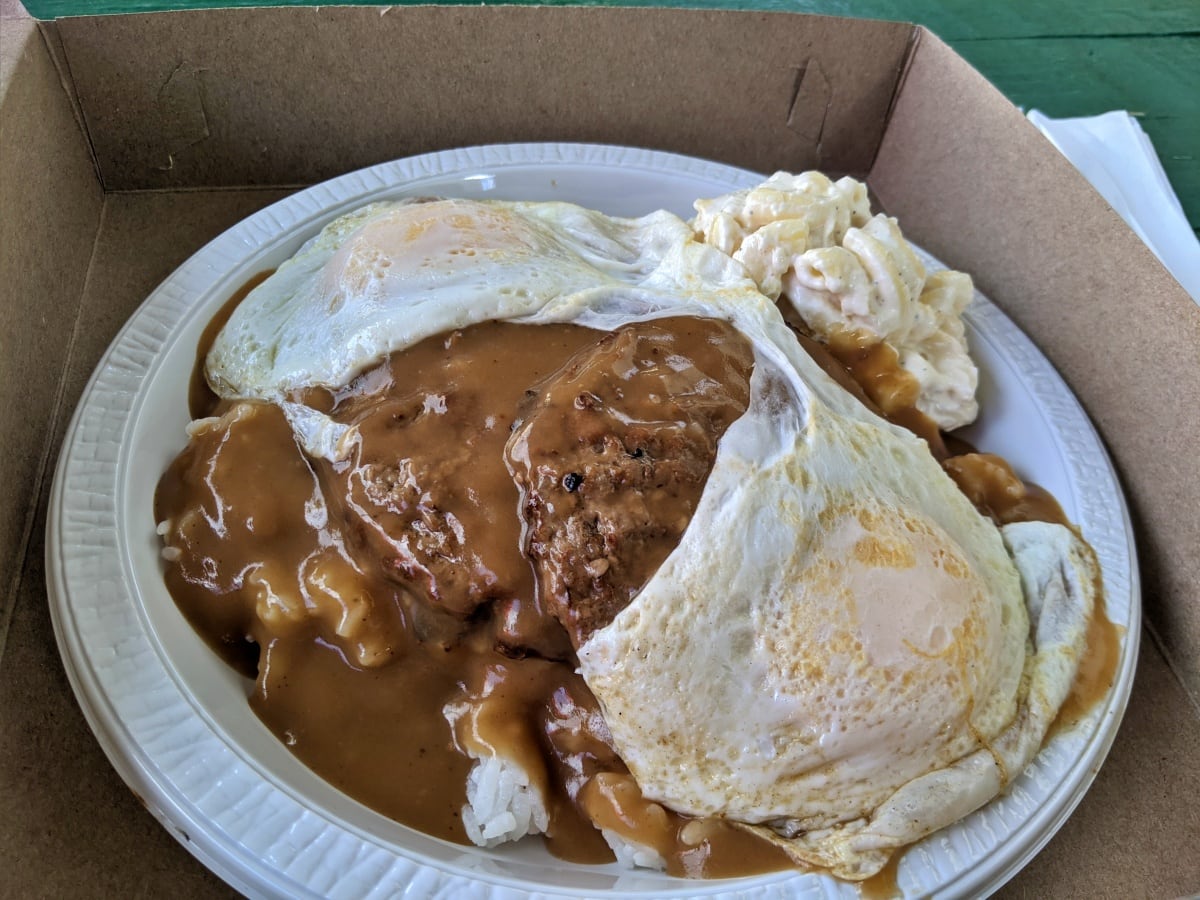 Loco Moco will fill you up and simultaneously hit you like a gut grenade. It's worth it! Keep an eye out for a hammock as nap time could be near. This caloric feast will not be among the healthiest things you eat on vacation.
Rainbow Drive-In is where people will send you to try one out, but you can also find them all over at L&L, Zippys, and most restaurants. You can get Loco Moco as part of a plate lunch (mini or regular sized) with macaroni salad and rice. Mine will usually come with a side of Portuguese sausage or spam to hit all of the meaty notes.
Plate Lunch: Classic Local Dish in Hawaii and Beyond
Plate lunch – is a popular food choice in Hawaii.
In Hawaii, a traditional plate lunch will come with one scoop of macaroni salad, two scoops of white rice, and some form of protein for the entree. Protein choices can include fried fish, hamburger steak, noodles, kalua pig, teri beef, chicken katsu, beef stew, kalbi, shoyu chicken, etc.
Consider a mini plate lunch if you aren't as hungry or have a little. That will come with a smaller portion of the main and one scoop each of rice and mac salad.
If you want to mix and match to sample many different flavors or are just starving, you can order a mixed plate that will give you more than one meat selection.
These days you could even get a plate lunch with a choice of rice (brown or white), and a green salad could replace the macaroni portion. So I suppose it is a take on healthier eating.
My favorites are chicken katsu, loco moco, and kalua pig.
Poke
Poke is Hawaii! Chef Sam Choy is considered by many as the godfather of poke in modern times. A poke ambassador, if you will. I enjoyed watching him on the weekend tv shows and had many of his cookbooks. Poke is arguably the most famous food in Hawaii. However, poke is not only in the Hawaiian islands anymore. It has spread its wings and taken off around the mainland and abroad. Poke is pronounced Po-Kay, not Po-Kee, and not said like how you would poke something with a stick.
I once had an Airbnb guest from Ireland that owned a poke shop. I wonder if it came with a pint of Guinness and brown bread?
Simple preparation and technique, when done correctly, yield a fantastic umami-filled flavor and an elevated dish that is among the best local foods in Hawaii.
Poke is a preparation that means cubed (cut crosswise) and is usually made with seafood. Ingredients include protein, salt, sweet onion, leaf (green) onion, soy sauce, spices, and sometimes a crunchy element like limu, kukui nut, or toasted sesame seeds.
Poke Favorites
I enjoy kimchee mussel poke, white crab poke, and tako poke, but you can't go wrong with the original shoyu ahi poke.
People have their favorites, and loyalty can be fierce. So there are plenty of stores like Foodland, Taniokas, Times, Tamuras, Poke Stop, and Fresh Catch, to name a few, that people will recommend.
The fresher, the better, and you don't want it sitting in your fridge for several days. Get to it quick. If you are able, avoid the ones prepared with previously frozen ingredients. You should see a label.
I've seen poke served as nachos, with salads, in combination bowls with rice and other things, and the like; I don't need all that. Give me a pair of chopsticks and my small deli container of fresh poke, and I'll dig right in.
How Many Local Food Dishes Will You Try in Hawaii?
Whether you try only one, several, or all, the choice is ultimately yours. You will get some fantastic bites and flavors of the aloha state. Have you had any of these before? What do you most look forward to when visiting the islands?
Got a sweet tooth, or looking for something new? Check out this fabulous dining experience on Oahu
Tiny Pyramid: "Where Desserts Come First" in Honolulu
Fun Activities to Take Part In After You Get Your Foodie Fix
Get Ready to Book Your Trip: Helpful Links and Resources

Book Your Flight
Use Skyscanner to find and research your airfare needs and to find the best flight deals. It searches worldwide on multiple airlines to help you find the best options.

Book Your Stay
Booking.com is my go-to for finding a place to stay anywhere globally. An outstanding company that I trust and have used for many years. Find accommodation from budget to luxury in cities and countries around the world. If you happen to be backpacking and staying in hostels, I recommend Hostelworld to help you find a place to stay.

Get Travel Insurance
Travel is unpredictable. Anything could happen. A trip interruption, flight delay, lost or stolen items, or personal injury, having comprehensive trip insurance will protect you if anything goes wrong. SafetyWing is a solid choice for most travelers.

Tours, Activities, and Things to Do
Viator (a TripAdvisor company) offers many excellent options to keep you busy wherever you may be, from walking and food tours to sunset cruises and more. Make sure to give them a look and add some fun-filled activities to your itinerary.
Disclosure: Please note that some of the links above may be affiliate links. At no additional cost to you, I may earn a small commission if you make a purchase. I only recommend companies and products that I use myself and believe in.