The Best Key West Experiences You Won't Want to Miss
Key West has numerous experiences, attractions, and excursions that are not to be missed. However, you won't have to hurry. As you'll soon discover, the Key West vibe is casual, laid back, and not rushed.
If this appeals to you, how you experience Key West and what you take away from it is ultimately up to you. There are so many things to do and participate in that you won't find a shortage of things to do in Key West during your stay.
If you are asking yourself, is Key West worth visiting? I would give a resounding yes, and I think you will find many others agree with that sentiment.
Key West Top Experiences
Key West Sunsets
Is Key West the home of the sunset? It could be. That saying is found near the bottom of the very photogenic Southernmost Buoy.
Key West is known for its nightly waterfront sunset celebration at Mallory square. A daily event free and open for all to attend. People gather to take in the setting sun while watching boats sail around on the water.
Street Performers, musicians, and even psychics entertain the swelling crowds as pop-up stands sell local art pieces and creative crafts; many different food and drink items are also available.
Our sunsets are magical and can fill the sky with an array of pastel colors and hues. It is kind of our thing, so make sure to take in a few of our glorious sunsets from land or sea while you are in the Keys. The Mallory Square Sunset Celebration is free. If you are looking for a sunset cruise, we have quite a few available.
Look at and discover your best sunset cruise options here.
Tasty Key West Seafood Experiences
After all, Key West is an island, and one would expect fresh seafood to be on most menus. We have some unique and must-try delicacies for any seafood lover.
Hogfish is highly prized and sought after by many diners. It is described as having a mild, delicate flavor that takes on sauces or flavors it is around. Try our Key West Pinks for a different spin, and track down some elusive Royal Reds if you love shrimp.
This is the Conch Republic; as you would expect, you will see and should try some conch fritters. In addition, you'll find lobster rolls at a few different places on the island. My favorite is the "Key West Lobster Roll," with hot butter and a hint of key lime juice from The Lobster Shack.
We have plenty of mahi-mahi, snapper, grouper, and even tuna making their way onto dinner plates and sandwiches. I love the blackened snapper sandwich at the Schooner Wharf Bar with no bun and coleslaw—heaven on a plate.
If oysters are your thing, have some freshly shucked for you at the Half Shell Raw Bar, Alonzo's Oyster Bar, The Thirsty Mermaid, or Pepe's Cafe. They are always delicious and an even better deal during happy hour at those restaurants.
Seafood is plentiful. I've enjoyed charred baby octopus and fabulous bacon-wrapped grilled shrimp at Louie's Backyard. Finally, don't forget to hit up some sweet, flaky, and local delicate stone crab if you are visiting while in season. (Mid October – Mid May)
Check out the best Key West Food Tours and Experiences below
Ernest Hemingway Home and Museum
Ernest Hemingway lived in and traveled to many places during his lifetime, including Spain, Paris, Cuba, and even Florida. While in Key West, nearly a century ago, the author fished for marlin, wrote several books (perhaps you have heard of a few), and drank at local bars like Sloppy Joe's.
Hemingway lived here from 1931 to 1939. One block south of Duval and across the street from the Key West Lighthouse, you will find the Ernest Hemingway Home and Museum. Following his footsteps, you can visit this two-story Spanish Colonial home, tour the house and gardens, and purchase a few keepsakes and mementos at the gift shop.
Keep an eye out for the resident six-toed cats. There are over 40 of them on the premises. Key West life is tough, yet somehow, they manage to get by. A ship's captain gave Hemingway a white polydactyl (6-toed) cat that he named Snow White. Many of these cats you see about are her descendants, and most of them have the six-toed trait.
The Hemingway Home and Museum is one of the most popular Key West experiences. Is it on your to-do list?
Sandbar Excursion
Get a trip out to one of our sandbars or other exciting areas. A fun activity is getting out in the local waters and experiencing the joys of the keys. Sandbar trips are frequently brought up in Key West forums and other advice-seeking places. I have been out several different times and have thoroughly enjoyed my day. Don't forget sunscreen, stay hydrated, and locate a shady spot.
I recommend a trip with Goal Tending Services because Montie & Gypsea are delightful hardworking people. Their vessel features a ramp making wheelchair and mobility access possible allowing more people to enjoy their travels together. In addition, they are knowledgeable and go to incredible places like the Mud Keys. Oh, and you can meet Amelia! The cutest little Boston Terrier you'll see.
Another company I recommend is Peak Charters. I haven't personally been out with them (yet), but you can see how friendly and helpful they are and willing to help and accommodate. You can tell a lot about people by watching their interactions. I see excellent customer service, and a genuine feel, which should make your day a fun one.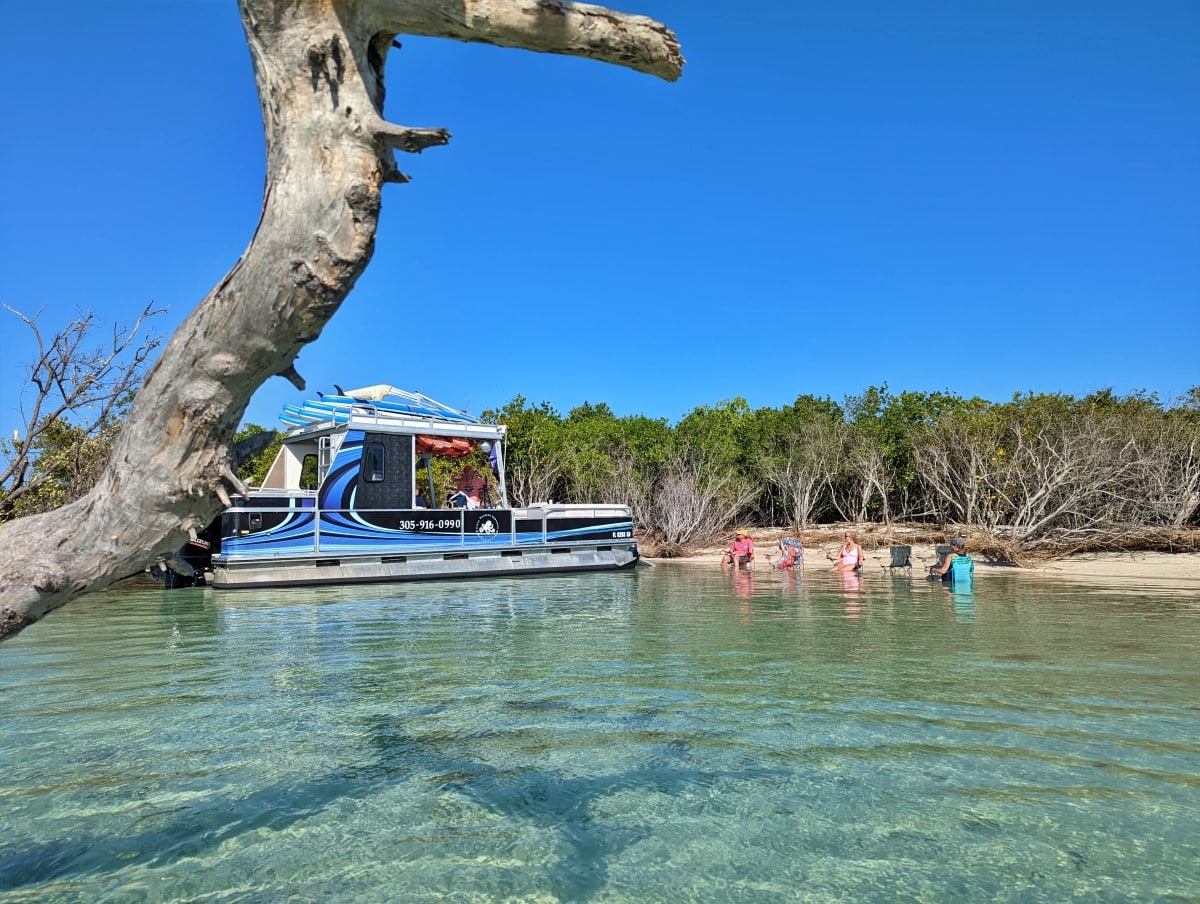 Key Lime Pie
A must-try, whether you are a fan or not in the keys, is our world-famous key lime pie. You'll see different textures, varieties, preparations, and more, from towering meringues to more of a cheesecake consistency to frozen on a stick.
Kermits is always a go-to. And every restaurant you come across will say their pie is the best. Look for a fresh homemade pie and not one off the Sysco truck. Even Publix carries a very good one, although rather sweet.
I enjoy the tourist special served up at Blue Heaven and their sister restaurant, Salute. I'm a meringue fan, so this towering skyscraper replica does not bother me one bit. My most recent taste was at Viva Argentinian Steakhouse, and theirs I felt needed a little more lime and was more like a cheesecake, as I described above. It was, however, still tasty.
Chocolate-covered key lime pie on a stick is fantastic, and don't let anyone tell you otherwise! I feel it is a must-try on your key lime pie journey around our tiny island. (especially if you have kids) I'll always take out-of-town visitors to Kermit's to get a sample.
What is Key West most known for? Key lime pie, of course. It's actually a thing now, as Key lime pie was recently named the official dessert of Key West.
Key West Beach Experiences
Be warned; Key West isn't the idyllic beach destination you would think of when envisioning the warm breezes and swaying palms like in the Bahamas or Hawaii. However, we have a few beaches, and you can still have a good time and make the most out of it.
I'd recommend Ft Zach for its tranquil surroundings, facilities (restrooms, concessions, rentals), shade, grills, snorkeling, and parking. It is pleasant to walk around, take in the views, and even explore the fort and learn about its history. Spend several hours or more unwinding at this beautiful beach area.
A word of warning and advice if you are getting in the water at Ft. Zach, DO BRING WATER SHOES! Your feet will thank you. On entry to the water, it is rocky. You'll find water shoes available online, at local drugstores, and even at the concession stand. You can order sturdy and reliable water shoes here.
Smathers is a long stretch of public beach with powdery white sand and some of those picturesque swaying palms that you see on postcards. You'll find a smattering of food trucks, bathrooms, and an expensive chair and umbrella rental. Parking is metered, but the beach is free. Please make sure you pack or buy some reef-safe sunscreen to protect the fragile environment where we live.
Higgs Beach is a little smaller but has better amenities. You'll find free parking, volleyball courts, bathrooms, a pier to walk out on, botanical gardens, an African Cemetary, a bocce ball area, and a dog-friendly park. Oh, and I can't leave out Salute on the Beach restaurant! Enter from the shore or walk out on the pier and climb down one of the ladders into the warm waters below. Relax and let your problems drift away.
Looking for a beach read to pass the time? Check out the Key West Bucket List for some inspiration and helpful planning.
A few more popular books to consider include:
Butterflies
In Key West, we have the Key West Butterfly and Nature Conservatory on upper Duval Street. It's a magical place that calms my mind and soul and is open every day of the year. Walking in the habitat of nature's beautiful creatures is one of the more unique and pleasurable Key West experiences.
Exotic birds and butterflies comingle along a tranquil path flitting about in the plants and trees in the climate-controlled area. In addition, you'll find local artwork, a wonderful gift shop, and a learning center to gather knowledge about our flying friends. If you feel you need to go back again, you can. Your admission ticket is good all day.
We have two resident flamingos that draw a crowd of spectators in this location. They are named Rhett and Scarlett. There is a private experience that you can book to spend time with them or, as they say, "Flamingle." Limited space is available, and this activity fills up in advance. If this is something you may be interested in, book ahead of time.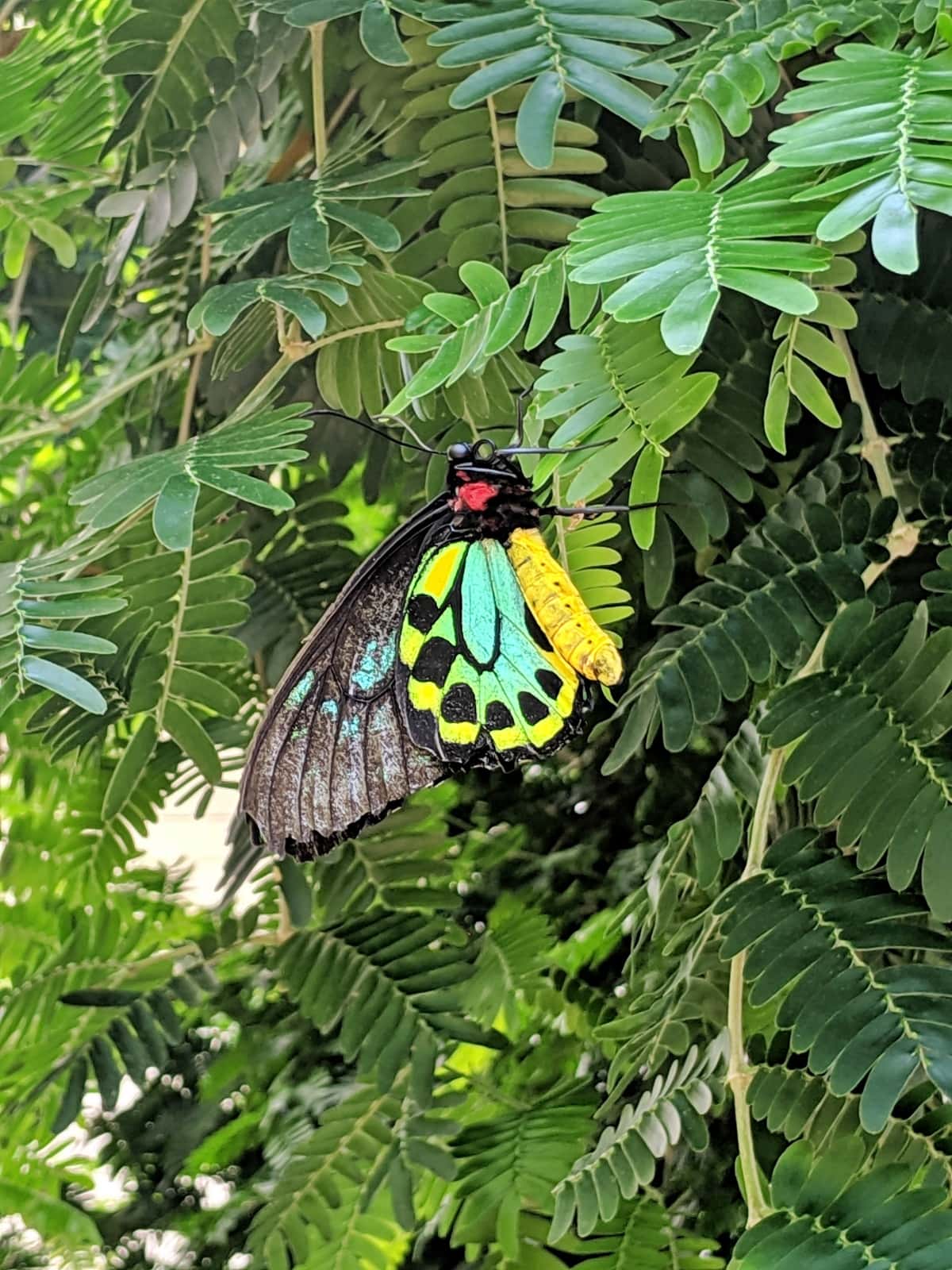 Duval Street
The epicenter of everything Key West is down on Duval Street.
Feel the heartbeat of our little tourist town on this legendary street. Pulses race with excitement as your eyes try to take it all in: bars, galleries, restaurants, shops, and more line the road.
A never-ending stream of mopeds, golf carts, pedicabs, and other vehicles make their way back and forth. Charismatic street characters, chickens, sidewalk art, and banners all vie for your attention.
Let your eyes, ears, and sense of smell lead the way. Walk the strip from the Atlantic to the Gulf, visit famous bars and some historical sights, and don't forget about those can't miss treats and eats along the way.
All Aboard the Conch Train
I highly recommend this activity for first-time visitors to Key West. The Conch Tour Train shuttles visitors through the city, giving historical tips and information. It winds its way around our city streets on a 75-minute fact and fun-filled trip.
This tour is an excellent time for cruise passengers and first-time visitors, those traveling with children, and those who may be short on time. Get a lay of the land and possibly some ideas on what you may want to explore in more detail in the days ahead. Learn about Old Town and the History of Key West and many of its sights and attractions.
Book your ticket for the Key West Conch Tour Train here
Dry Tortugas
A day trip or an overnight camping adventure to the Dry Tortugas National Park is high on many visitors' to-do lists. The most common way to get to the Dry Tortugas is by taking the Yankee Freedom Ferry. A high-speed catamaran that whisks you away in comfort to Fort Jefferson 70 miles away. You can learn about the fort's history and some of its more interesting residents.
Keep an eye out for turtles and other wildlife, such as migratory birds who stop by on long journeys. And enjoy fantastic snorkeling along with the living coral in the calm, protected emerald and blue waters. Are you looking for a non-crowded white sandy beach to soak up some rays? You're in luck on this full-day adventure if that is how you choose to spend your time.
Book your Dry Tortugas Trip here.
The seaplane is the other popular and more expensive method for getting out to the Dry Tortugas. It gets you there a lot quicker, and you can make the most of your time on a half or full-day adventure tour from the airport. The scenery alone flying out is worthy of the cost. An excursion by seaplane is one you won't forget, flying out to Fort Jefferson and back. Book well in advance if this is of interest to you.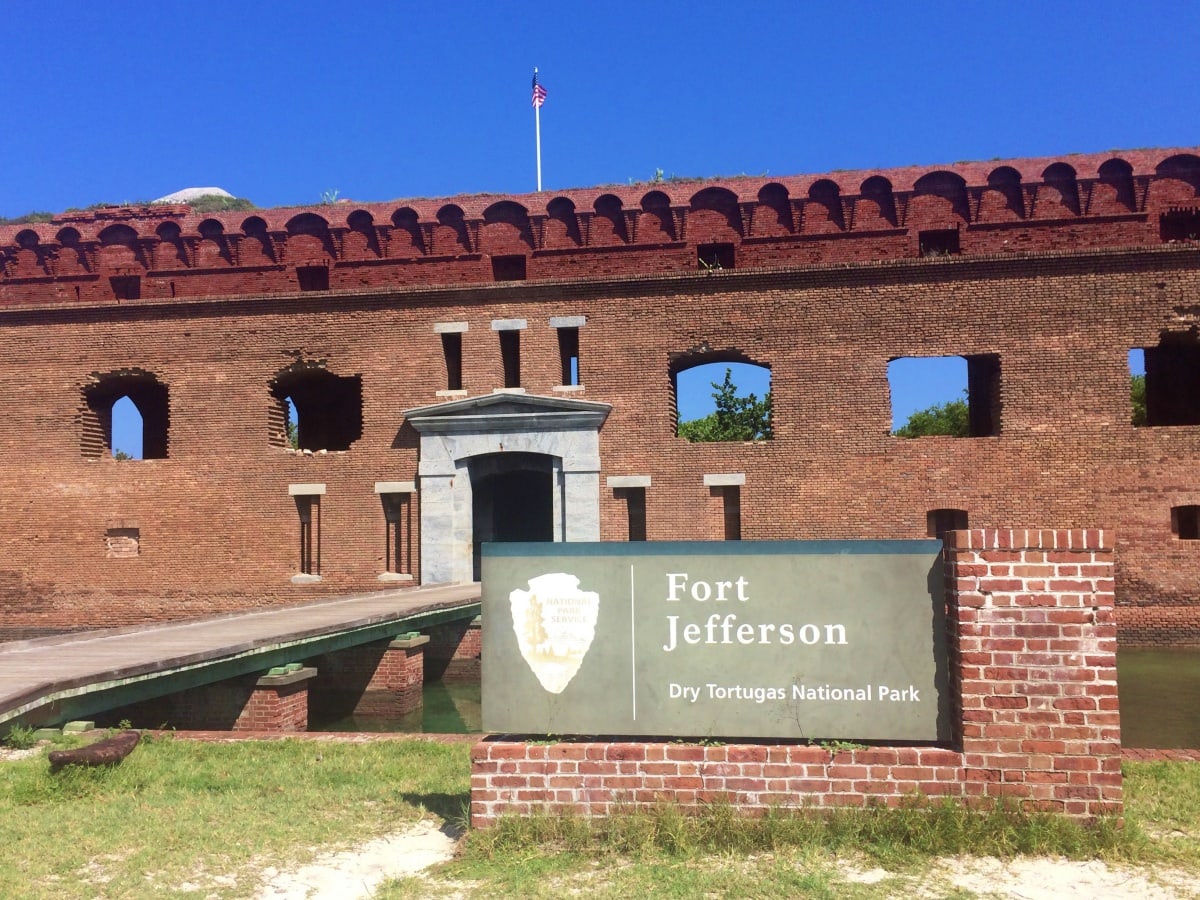 Live Music
Key West might have the highest concentration of bartenders in a tiny area. Right behind that are the number of musicians. Most bars will have live music for you to listen to throughout the day; you just have to find them.
Here is a helpful resource that lists the daily music schedule for Key West.
We have a solid music scene worth diving into, from tourist classics to longtime local favorites. You may even hear some songs on the local airwaves. A visit to Schooner Wharf Bar, Hogs Breath Saloon, Willy T's, and Smokin' Tuna should get you started for some great performers. Then there's Salty Frogs, Hanks Hair of the Dog, The Green Parrot, Ramshead Southernmost, Sloppy Joes, Irish Kevin's, etc.
There is even a music tour you could join if you care to be escorted around.
Photo Ops
Do you need to document your trip and make everyone jealous on social media while frolicking in the keys? Here are some epic photo opportunities and 10 Instagram-worthy shots not to miss. Then, when you get home, you have photographic evidence of your favorite Key West experiences!
Mallory Square, as mentioned previously, is where you want to go for the sunset. Take pictures of the activity surrounding you and the sun dipping into the sea. Don't drop your camera or spill your drink when walking into Mallory if the guy hiding behind the bushes jumps out at you.
Cuban Coffee Queen downtown on Margaret street has that iconic mural out front saying, "Greetings from Key West!" So grab a coffee, flash a peace sign and smile big for the camera. Down a bit at the Waterfront Brewery is a Wyland wall that deserves your attention and a few pictures.
The little walkways inviting you into Smathers are worthy of a shot framed with some sand, a palm tree, and perhaps even a rooster.
The Southernmost Point Buoy is a must, and it is on every visitor's list. Come earlier if you don't want to wait for your picture with this famed conch republic monument.
You'll find Mile Marker Zero on Whitehead street near the intersection with Fleming. The beginning or end of the road (highway 1) depends on which side of the street you are on. This route stretches from Key West, Florida, to Fort Kent, Maine.
A famed Key West drinking establishment should be worth a picture or two. We don't have Cheers where everybody knows your name, but we have a few popular bars that people know by name. So take a snap of Sloppy Joe's, Captain Tony's, or The Green Parrot to get some street cred. You might as well have a drink while you are there, you know, for research. Don't forget about the free popcorn machine if you are at the parrot.
If the weather cooperates, Ft Zach may offer that idyllic Key West beach picture you are looking for with the fantastic multi-blue colored water.
Chickens, roosters, hens, and nuggets. Love them or hate them, Key West's unofficial ambassadors and alarm clocks are beautiful animals. They should make it into your photo roll.
We take pride in many things down this way. One of them is the colorful rainbow crosswalk and intersection on Petronia and Duval. I like taking pictures here from different angles. Always a lively and exciting section of Duval Street with many photo opportunities.
Key Lime Pie! If there were a key lime pie highway anywhere in the US, you know it would be here. But, we'll stick with being the end of the road (Mile Marker 0) for now. So, get a picture of that Key West classic: Key Lime Pie. Whether it is dipped in chocolate, reaching for the sky, or classing up a dessert plate. It belongs in your photo memories.
Key West Experiences you'll remember far after you are gone. Your visit will be composed of many happy moments, hours, and tastes bundled into an unforgettable package. You'll be left smiling, whether from diving into tried and true favorites to splurging on or discovering something new. Key West looks good on you!
For more Key West posts click the button below
Where to Stay in Key West
If you need a place to stay, review these local hotels and find locations that best suit your needs.
Find the Best Deals on Key West Hotels here.
What are your favorite Key West Experiences or memories? Share with your friends with the social links provided.
Get Ready to Book Your Trip: Helpful Links and Resources

Book Your Flight
Use Skyscanner to find and research your airfare needs and to find the best flight deals. It searches worldwide on multiple airlines to help you find the best options.

Book Your Stay
Booking.com is my go-to for finding a place to stay anywhere globally. An outstanding company that I trust and have used for many years. Find accommodation from budget to luxury in cities and countries around the world. If you happen to be backpacking and staying in hostels, I recommend Hostelworld to help you find a place to stay.

Get Travel Insurance
Travel is unpredictable. Anything could happen. A trip interruption, flight delay, lost or stolen items, or personal injury, having comprehensive trip insurance will protect you if anything goes wrong. SafetyWing is a solid choice for most travelers.

Tours, Activities, and Things to Do
Viator (a TripAdvisor company) offers many excellent options to keep you busy wherever you may be, from walking and food tours to sunset cruises and more. Make sure to give them a look and add some fun-filled activities to your itinerary.
Disclosure: Please note that some of the links above may be affiliate links. At no additional cost to you, I may earn a small commission if you make a purchase. I only recommend companies and products that I use myself and believe in.